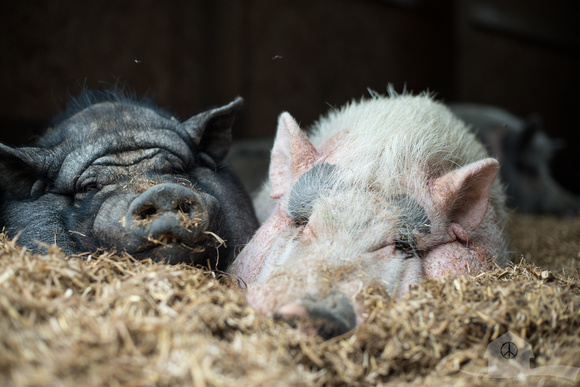 Pot-bellied pigs: wonderful animals but bad pets
Originally posted in April of 2017.
Pot-bellied pigs, sometimes called mini-pigs or teacup pigs, are a popular "fad pet" often purchased by people based on misconceptions about their size and needs. Humane societies and animal sanctuaries, including SASHA Farm Animal Sanctuary, are constantly contacted by people trying to re-home their pot-bellied pigs after they've grown too large for their caretaker's comfort.
According to one estimate, as many as 90% of pot-bellied pigs purchased as pets are later given to sanctuaries and rescues.
Despite claims from breeders and online communities, adult pot-bellied pigs can weigh between 100-300 pounds and have a lifespan similar to that of dogs and cats, with some living as long as 20 years.
Pot-bellied pigs, including so-called therapy pigs, are illegal in many communities and require unique, and sometimes costly, veterinary care that many local veterinarians aren't able to provide.
Additionally, pot-bellied pigs are intelligent and social animals who require companionship with other pigs and lots of outdoor space and enrichment that many people can't provide.
Currently, SASHA is home to about 20 pot-bellied pigs who live communally, have space to roam, explore and root, huts to sleep in, straw to nest in, and toys to play with. Sadly, in many instances, pet pot-bellied pigs are not able to engage in these natural behaviors that are so meaningful and enriching to them and instead suffer from boredom and depression.
Unfortunately, there are few resources available for the pot-bellied pigs whose owners, for whatever reason, can no longer care for them. Many humane societies and animal control agencies consider pot-bellied pigs livestock and therefore will not accept relinquished pigs. This means that the sanctuaries, humane societies, and animal control agencies who respond to requests for assistance for pot-bellies are often overwhelmed by requests for help. And many sanctuaries, including SASHA, quickly reach their capacity and are no longer able to accept new pot-bellied pigs.
Because of the misconceptions about the size and needs of pot-bellied pigs, deceptive practices by breeders and lack of assistance and resources for pot-bellied pig owners, many pot-bellied pigs are neglected, abandoned and abused when they're forced to live with owners who no longer want them.
In Macon, Georgia, a pot-bellied pig who was advertised as a pet on Craigslist was tortured by men with a pickax, polls, and rifles who were planning on killing and eating the animal. In Corpus Christi, Texas, an abandoned pot-bellied pig was set on fire and found with wounds across her body at a local convenience store.
Pot-bellied pigs are complex, intelligent animals who likely suffer in the sterile environment of people's homes without the companionship of other pigs and the ability to engage in their natural behaviors and activities. The majority of pot-bellied pigs purchased as pets are later sent to sanctuaries or are neglected and abandoned as their size and unique care requirements become too much for their owners.
Instead of purchasing a pot-bellied pig as a pet, consider sponsoring one at SASHA. Your sponsorship helps us to feed and provide for the animals in our care for their entire lives.